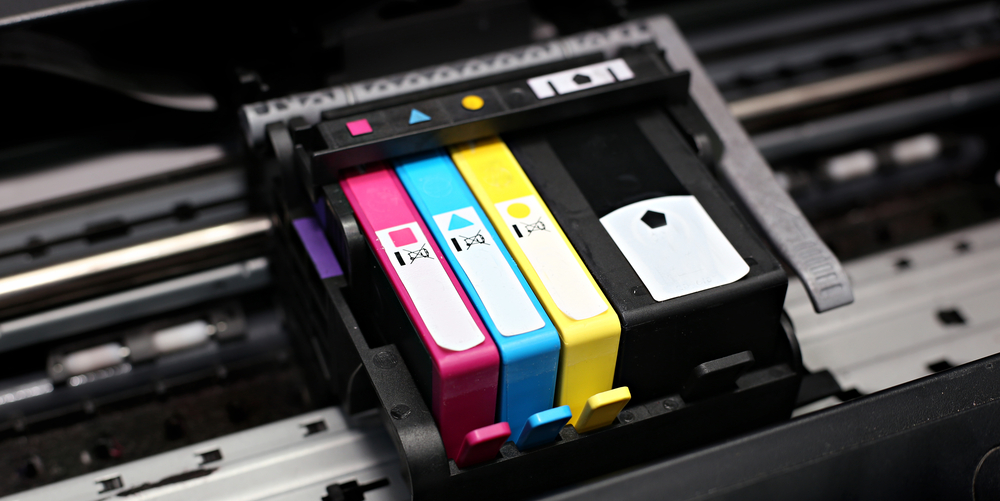 Printer ink is among the most expensive liquids in existence to such an extent that it's often not much more expensive to buy a new printer whenever the ink runs out. Unsurprisingly, the printer manufacturers are highly defensive when it comes to the issue of insanely overpriced ink. In fact, major manufacturer Lexmark lost a lawsuit in 2004 when it claimed that third-party cartridge manufacturers were violating their copyright. On the other hand, something is ultimately worth as much as people are willing to pay for it, and most people do indeed fall for the global con that is the world of printer ink. However, there are ways to save money in the longer term.
Buy Compatible Cartridges
There are compatible ink cartridges available from third-party manufacturers for most printer brands and models, despite several failed attempts at legal action against them in the past. Needless to say, printer manufacturers themselves always warn against using anything other than their own original cartridges, and you'll likely void your warranty by using compatible ones. Nonetheless, compatible ink cartridges cost a fraction of the price, and the vast majority of them work perfectly with no discernible loss in quality. If in doubt, just read a few reviews on Google before you purchase any compatible, rather than original, products.
Refill Your Old Cartridges
By far the cheapest and most environmentally friendly way to replace your ink cartridges is not to replace them at all and instead refill them. Refilling old cartridges costs a tiny fraction of what it does to replace them with original ones. Universal refill kits, as well as ones designed for specific printer brands and models, are widely available from a range of manufacturers. They can be messy and complicated to use since the process typically involves piercing a hole in the original cartridge and injecting ink inside by way of a syringe. Unfortunately, however, many newer printers have microchips in their cartridges, in which case refilling them may not work.
Avoid Cheap Printers
Inkjet printers are often extremely cheap. In fact, you can easily find low-end models for as little as $50. As such, printer manufacturers often don't make any profit selling cheap printers, but they make it up with extremely expensive ink later on. If you buy a very cheap printer, it's quite possible that it will be cheaper to replace it entirely than to replace the cartridges. Another problem with cheap inkjet printers is that they tend to have tri-color cartridges, so when one of the three color (cyan, magenta, yellow) runs out, you still have to replace them all at once, making it highly uneconomical. Unless you almost never print in color, buying a cheap inkjet that only uses tri-color cartridges is usually a false economy.
Upgrade to a Laser Printer
Laser printers remain ubiquitous in the workplace, and for good reason too. Rather than using cartridges like inkjets, laser printers use toner, which usually lasts significantly longer and works out at a lower cost per page. By contrast, cheap inkjet printers are squarely aimed towards consumers, although there are plenty of higher-end models targeted towards small businesses and home offices too. Laser printers are ideal for printing large amounts of text content since the majority of affordable models are monochrome only. However, while color laser printers are also an option, they don't tend to be as good for printing photos as inkjets.
Use Draft Mode for Everyday Use
While it's always better to go paperless whenever possible, sometimes there's really no substitute for having a printed hardcopy of something. However, all inkjet printers offer a range of print quality settings, although they default to the normal setting for everyday use. For everyday printing, whether you're printing tickets, notes for yourself or financial documents, draft printing quality is perfectly adequate, and it uses a lot less ink. You should only use normal or better quality settings if you need a presentation-quality output which, unless you're printing something like a photo or a brochure, you aren't likely to need.
Final Words
Although printer manufacturers might be to blame for the extortionate price of cartridges, it's ultimately down to the consumer to shop around and be vigilant when it comes to saving money and the environment. Instead of being seduced by low-price inkjet printers, you can save a great deal in the longer term by getting a better quality printer and buying compatible cartridges from a reputable manufacturer. If you need to test if your ink needs a refill, try printing a test page.